Milan - Day 20
Frecciabianca to Milano

Frequent Trenitalia train services link the coastal city of Venice on the eastern seaboard of Italy with the fashion capital of Milan. The limited stop Frecciabianca (White Arrow) high speed service is the fastest of the various options available at the time of writing and completes the 266km journey across the Italian peninsula in 2.5hrs.




Passengers were served light refreshments halfway into the journey by the catering staff as part of Trenitalia's First Class service. We were offered a biscuit, a small cup of orange juice and a sweet. Unlike the Frecciargento service, the freshening towelette was presented in a generic packaging instead of a customised wrapping.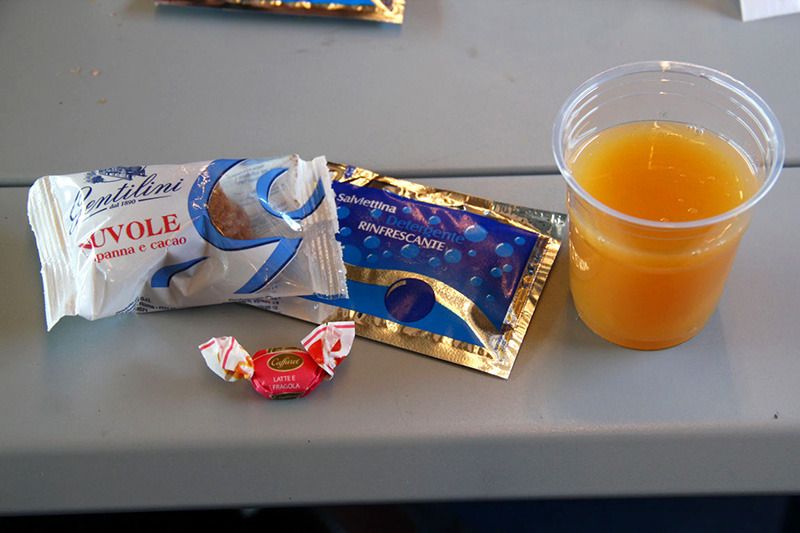 E414 locomotive-hauled Frecciabianca train at Milano Centrale. A typical Frecciabianca train is formed from a rack of refurbished UIC-X carriages that are further segregated into two classes of service.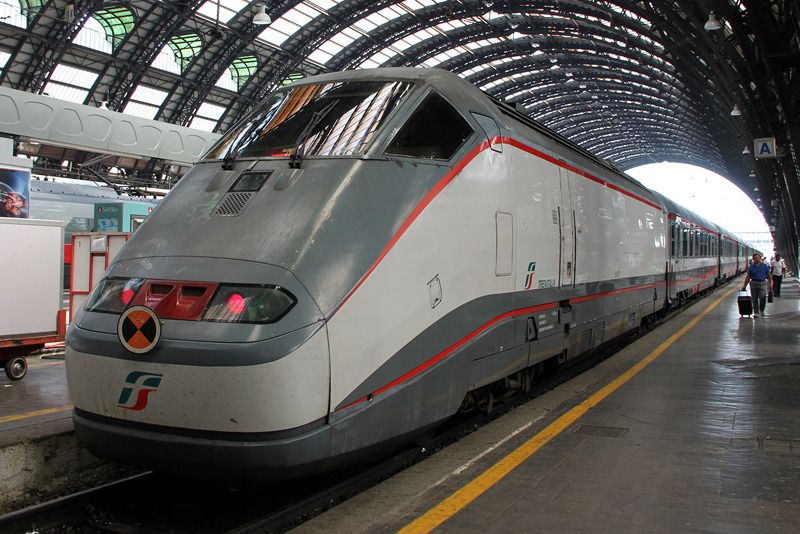 Milano Centrale and Duomo

From Milano Centrale station, it was a short walk across the road to Hotel Central Station. Similar to Hotel Marco Polo in Rome, the hotel is co-located with several other hotels in an unassuming slate grey building. The individual hotels are located on different floors in the building which is served by an antique manually-operated cage lift. We were greeted by a female Chinese receptionist at the simply furnished reception area, which with its tacky wooden bar, was not unlike a typical Chinese guesthouse. Free wifi was available for guests with a SSID provided at the front desk, but the reception was only confined to the lounge area near the entrance and not throughout the floor.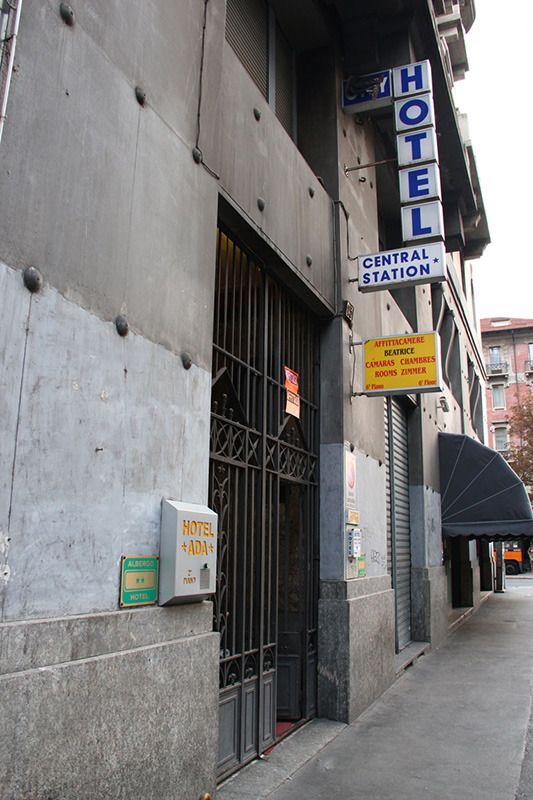 Simply-furnished quad-sharing room of Hotel Central Station. The room comes with an attached bathroom.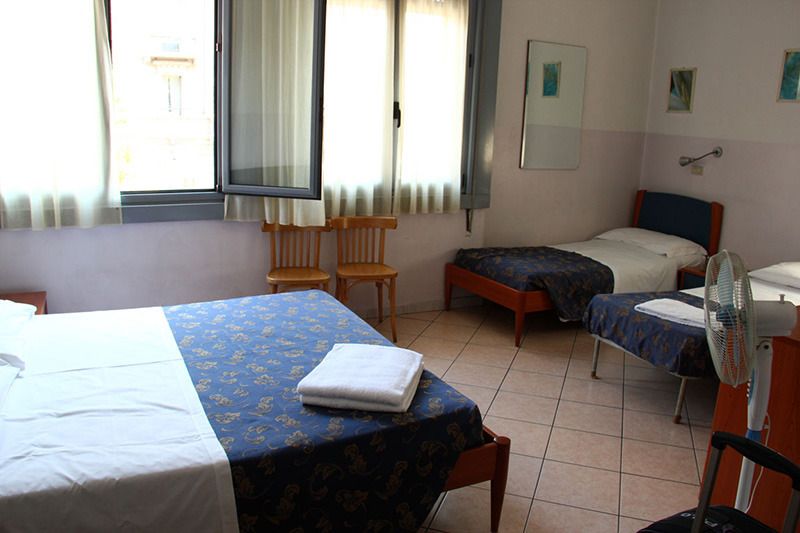 After unloading our luggage, we headed out to camp for photos of trolleybuses near our hotel. The Socimi 8843 articulated trolleybuses (fleet numbers 100-132) were based on the Iveco 2480 chassis and was introduced into service in 1991 by the city's main public transport operator ATM (Azienda Trasporti Milanesi S.p.A). Socimi (Società Costruzioni Industriali Milano / Milan Construction Industry Company) was not only a leading manufacturer of passenger cars, buses, trams and train bodyworks, but also produced weapons. With the demise of Socimi in 1994 due to a corruption scandal, the production of Iveco trolleybuses was interrupted and resumed only in 2000 with the release of Irisbus Cristalis.



Breda Bus 4001.18 formed the second series of trolleybuses which were introduced by ATM between 1992 and 1994. A number of the 33 units in this series are fitted with roof-mounted air-conditioning unit at the front of the bus.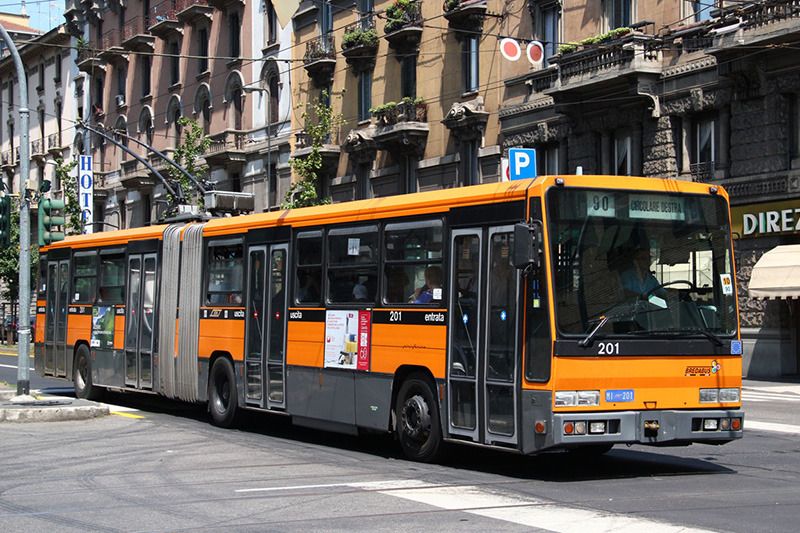 The newest trolleybuses in the fleet are the 30 units of Van Hool AG300T introduced in 2008. Instead of the generic orange livery for urban buses, the newer members in ATM's fleet are dressed in green livery which identifies them as environmentally friendly buses. #728 was photographed wearing a matching full body advertisement promoting an online new & used school textbook service for students.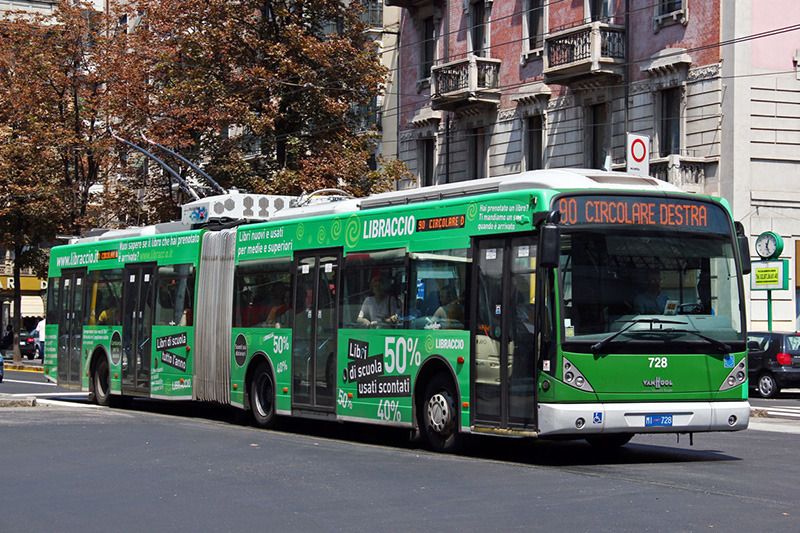 While many flock to Milan for an unparalleled range of luxury and Italian designer goods, we had set our objective on experiencing the antiquated Peter Witt trams that continue to ply the streets at the fashion crossroads of the world. We were thus delighted to spot these historic trams at the next junction. These trams are fitted with retractable steps which aid passengers in boarding the tram. The yellow and white livery was first introduced in 1928 and re-introduced in 2007.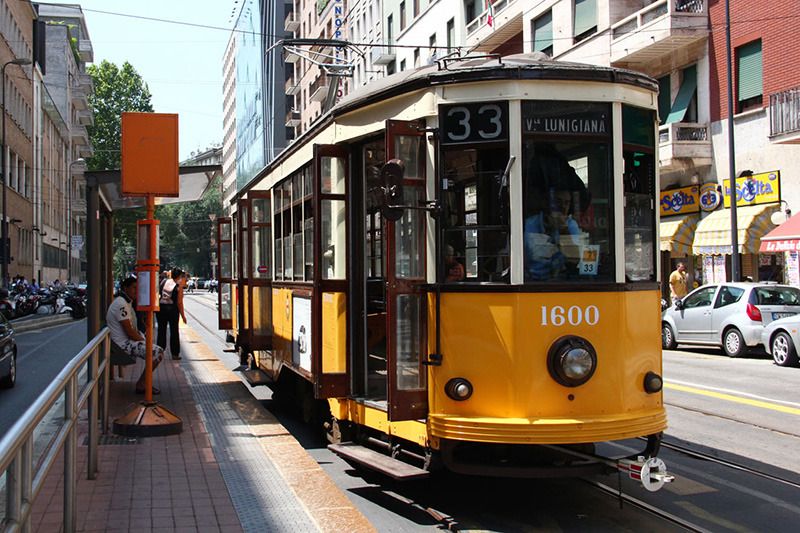 Peter Witt tram #1920 carries the generic orange livery for Italian urban buses and trams.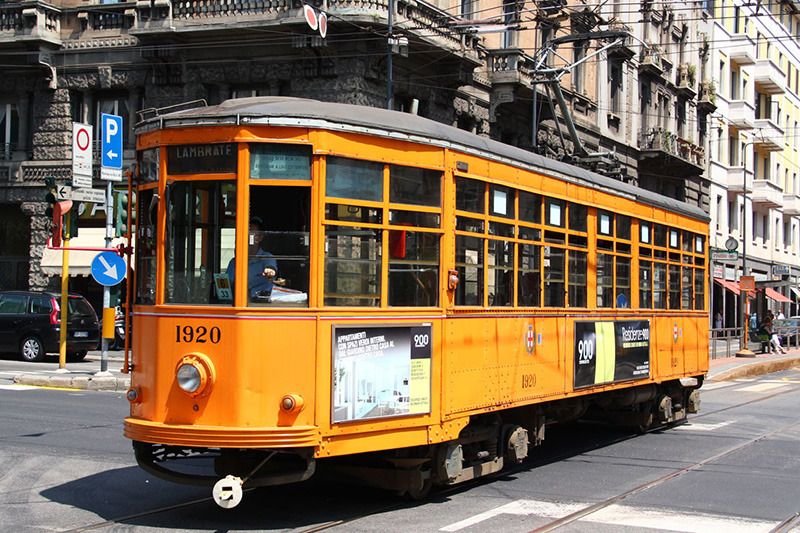 After a short stay, we moved on with a metro ride to Duomo in the historic centre. Unlike other European cities and in spite of its name, Milano Centrale station is actually located a considerable distance to the north of the city centre.

AnsaldoBreda Sirio #7512 was photographed at Piazza Quattro Novembre (Fourth November Square; commemorates the National Unity and Arm Forces Day) adjacent to Milano Centrale station. The low-floor tram is designed by Pininfarina and a key identifying feature is the oval front. ATM Milan operates both the longer 7-section 35.35m and shorter 5-section 25.15m versions of the Sirio. The shorter Sirio, such as #7512, is also known as Siretto, which means "little Sirio". The majority of the Sirettos are painted in the historic yellow and white livery.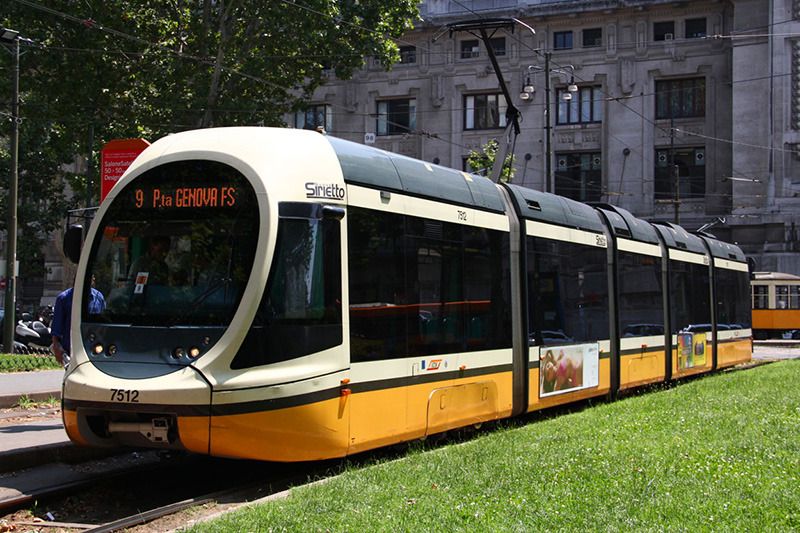 Milano Centrale station was officially opened in 1931 and replaced the old station which was built in 1864. The majestic columns and tall vaulted ceiling in the station represents the fusion of different architecture styles that were employed in the design of the final station building.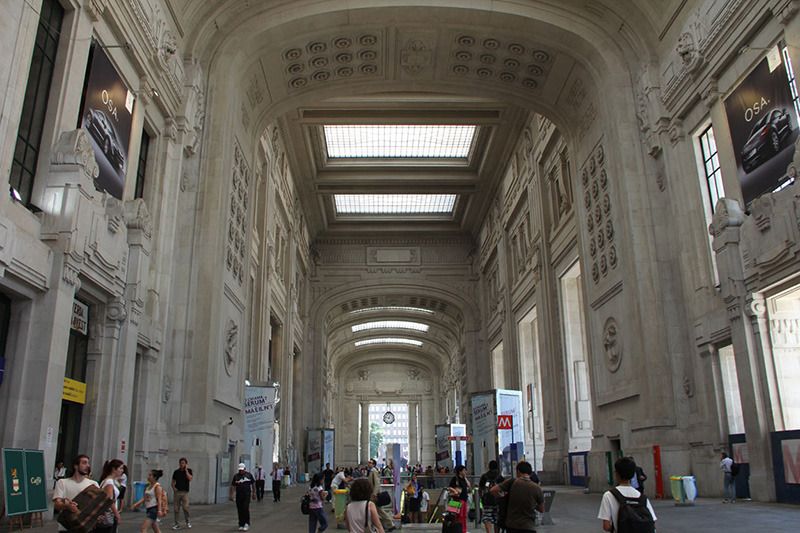 Milan has a total of 3 underground metro lines which are numbered M1, M2 and M3 respectively. Milano Centrale is an interchange station for M2 and M3 and is co-located within the Trenitalia station complex. ATM adopts a unified ticketing system for its bus, tram and metro network. Passengers can purchase a single trip ticket for €1 (left) which is valid for 75 minutes, or a day pass for €3 (right).





Interior of a MNG Meneghino metro train.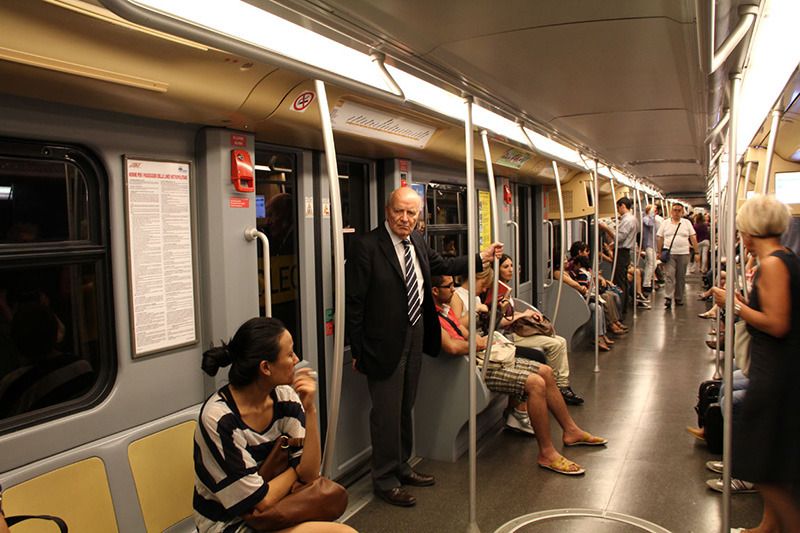 Duomo metro station entrance in Piazza Duomo.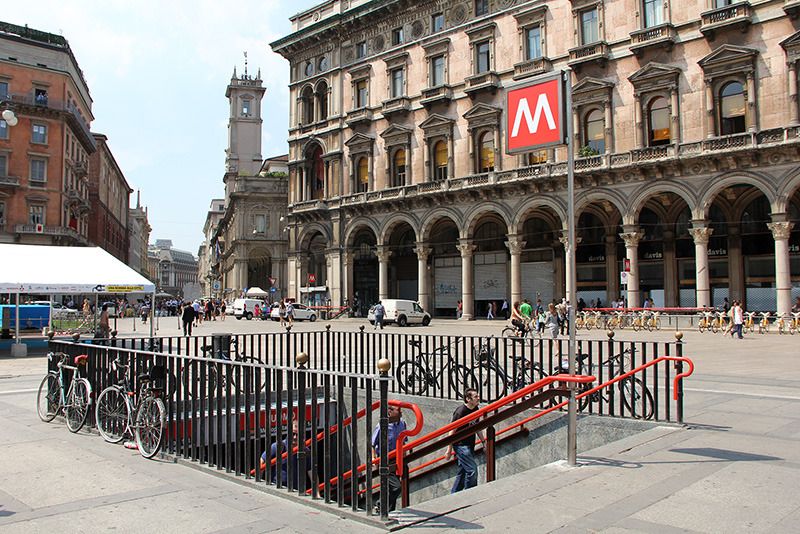 We proceeded to our planned camping spot for trams along Via Orefici and were glad that the sunlight direction was as expected. The Milan tram network is the second largest in Italy (after Turin) with 17 urban and 2 interurban lines operating on 160km of 1445mm Italian broad gauge tracks. There were high volumes of articulated trams in the area as six of the urban tram lines converge in the historic centre.

The 4600- and 4700-series articulated trams were built by Stanga between 1955 and 1960. All 33 units in the series have been repainted in the historic yellow and white livery by 2011.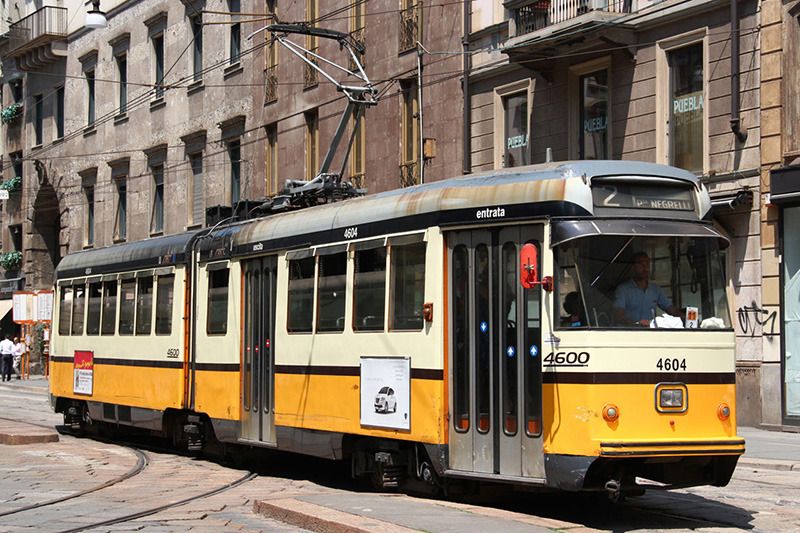 The 4900-series eight-axle "JumboTram" was built by Fiat Ferroviaria between 1976 and 1978 for use on high demand routes. Non air-con "JumboTram" #4906 carries an all-over advertisement for Vicolungo the Style Outlets.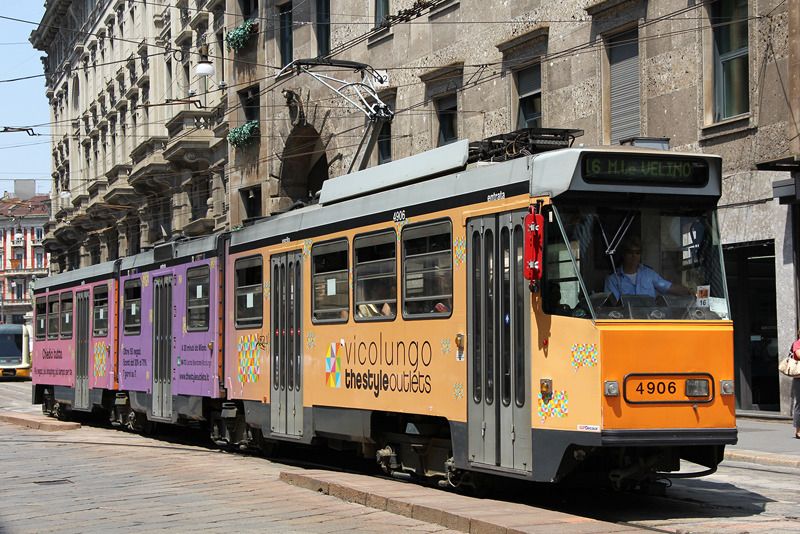 Air conditioning was added in 2008 to the last 50 units of "JumboTrams", fleet numbers 4950-4999, to improve comfort levels during summer. #4981 was photographed working service 12 towards Piazza Fontana.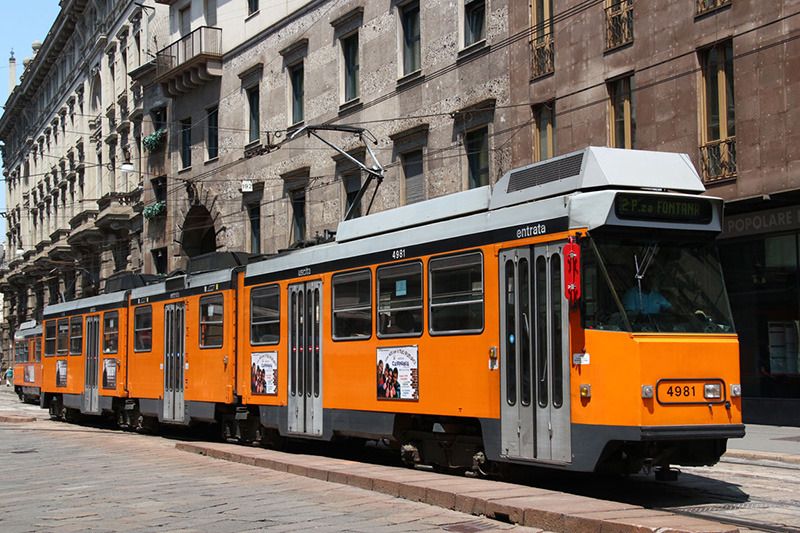 Service 14 is one of the tram routes which are served by modern low-floor air-con trams, such as the AnsaldoBreda Sirietto shown below.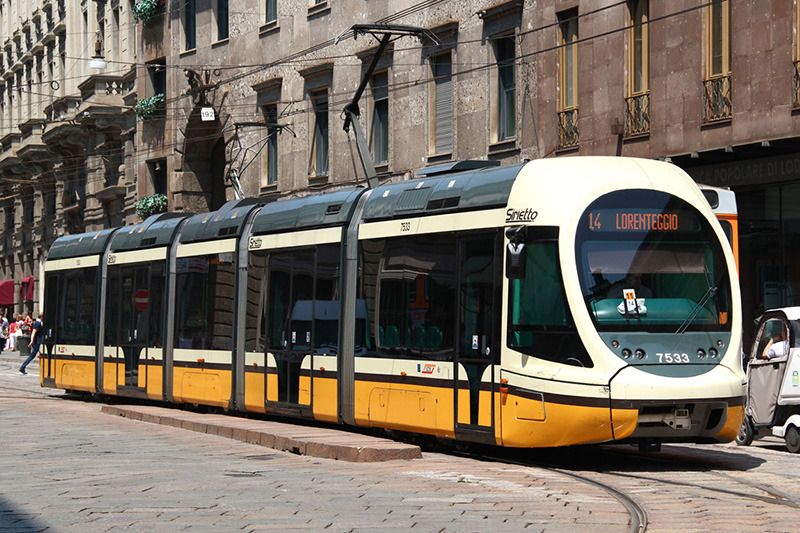 Regrettably, the antique Peter Witt trams are not deployed on any of the six services. However, we spotted one towing a broken down articulated tram which is double its length and weight! The impressive sight of Peter Witt #1526 towing a "JumboTram" testifies the ruggedness of the reliable workhorse for ATM.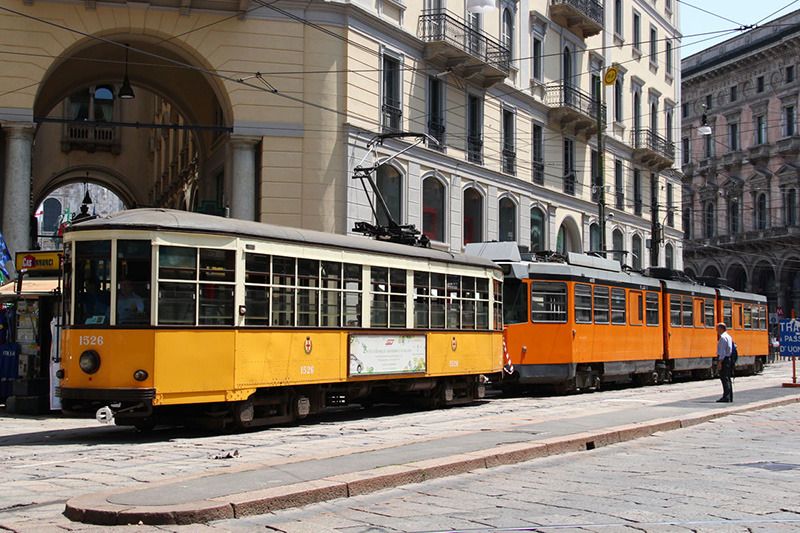 As we focused our attention on the passing trams, it did not occur to us that the famed Fashion Quadrangle (Quadrilatero della Moda) shopping area was nearby. Regarded as a shopping mecca for fashionistas around the world, the area takes its name after the cluster of high end boutiques located in an area bounded by Via Montenapoleone (SW), Via Manzoni (NW), Via della Spiga (NE), and Corso Venezia (SE).

After a short but productive stay, we walked around the area to search for lunch and unknowingly patronized an outlet of the leading Milanese bakery Princi. The layout was slightly confusing as there is no centralized queue with a "starting point" which was made worse by the lunch hour crowd. Instead, patrons order directly from the different sections for breads, pastries, pizzas, salads, etc., which led to one of us observing an amusing scene where an American couple ended up ordering a sample of virtually every pizza on offer due to a communication breakdown with the staff. Some of us ordered pastas and were disappointed that it was not well-heated.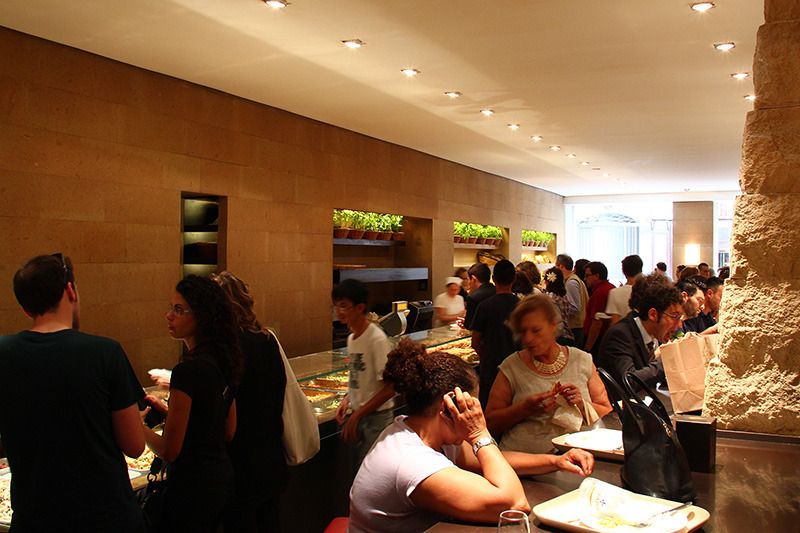 Farfalle pasta main course (€8). A prosciutto focaccia and a prosciutto bun with cheese combination costs €7.50 (not shown).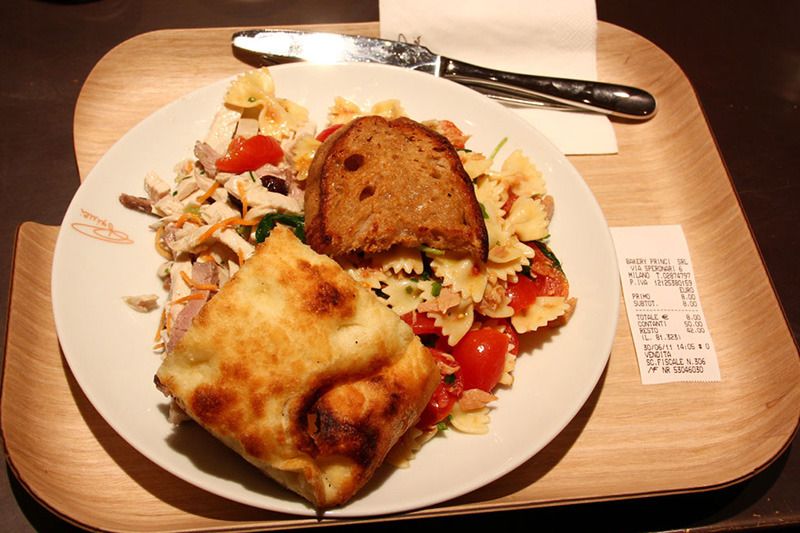 Following which, we paid a visit to the awe-inspiring Milan Cathedral (Duomo di Milano). The Gothic cathedral took nearly six centuries to complete and is the largest cathedral in Italy.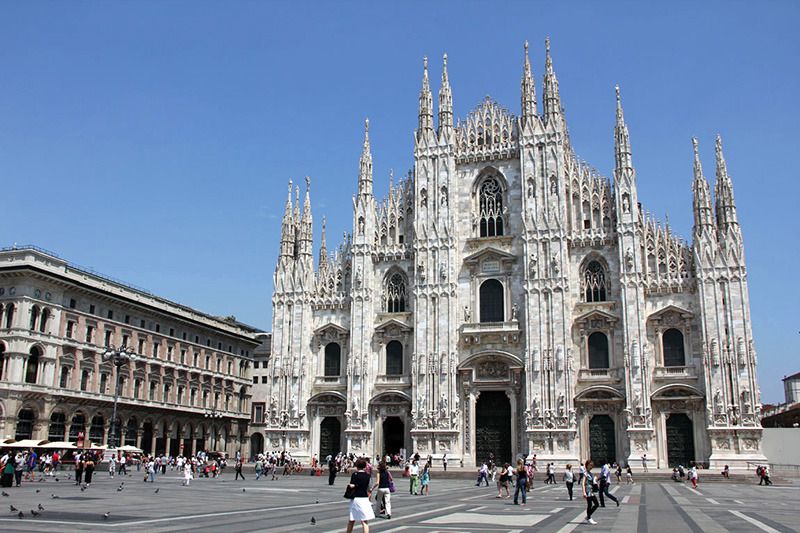 Draped against the impressing backdrop of Duomo in the background, the statue of the King Victor Emmanuel II of Italy was inaugurated in the centre of the piazza in 1896. The famed gilded bronze statue 'La Madonnina' can be seen perched atop the spire of the Duomo in the photo.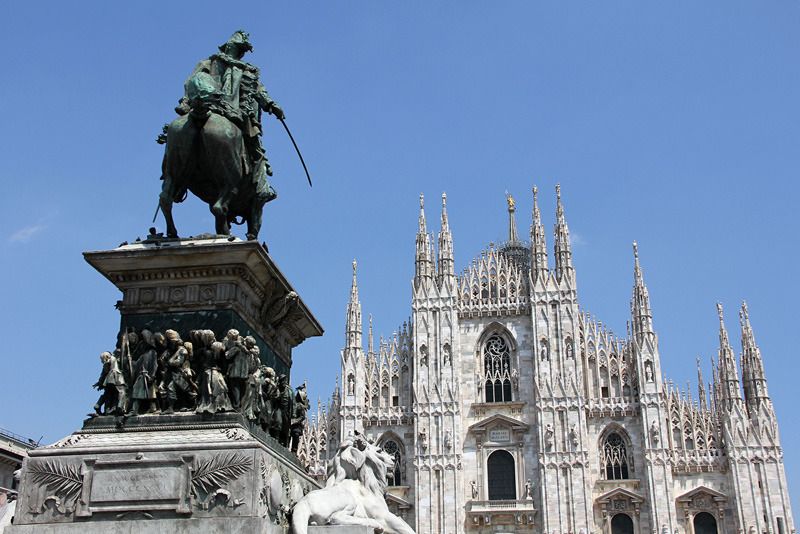 There were large numbers of pigeons in the piazza and many touts selling handfuls of grain to tourists who wish to attract the birds.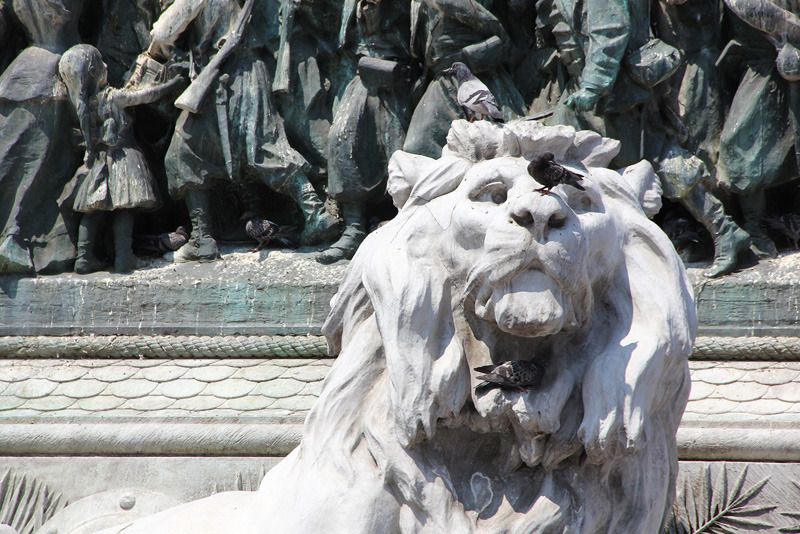 The Galleria Vittorio Emanuele II is the first shopping mall in Italy and was completed in 1865 and was named after the first king of Italy, King Vittorio Emanuele. The Giuseppe Mengoni designed building is regarded as one of the city's iconic landmarks and had been nicknamed as il salotto di Milano (Milan's drawing room) in reference to its importance as a meeting and dining place in the city.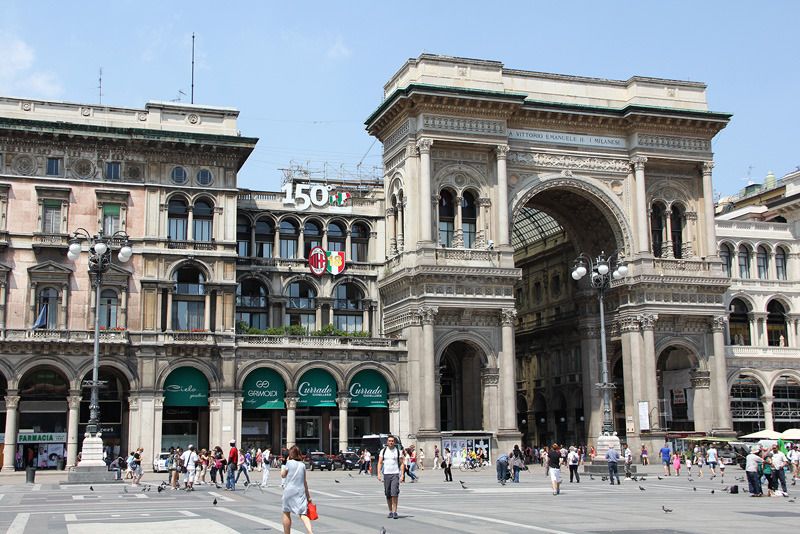 Italy celebrated her 150th year of unification at the time of our visit in 2011. The city's soccer team, A.C. Milan is one of the most celebrated names in the sport and enjoys a huge legion of supporters in Italy and around the world. A sign outside the Galleria Vittorio Emanuele II showcased the team's achievement in attaining 18 officially recognized UEFA and FIFA titles over the course of its illustrious history.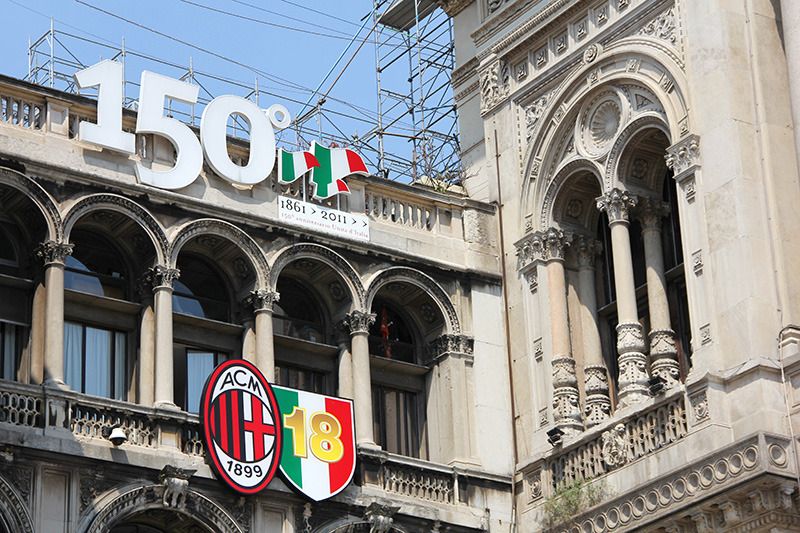 An eco-vehicle open air exhibition was held at the Piazza del Duomo with a range of electric vehicles on display. A modified electric DMC DeLorean hatchback.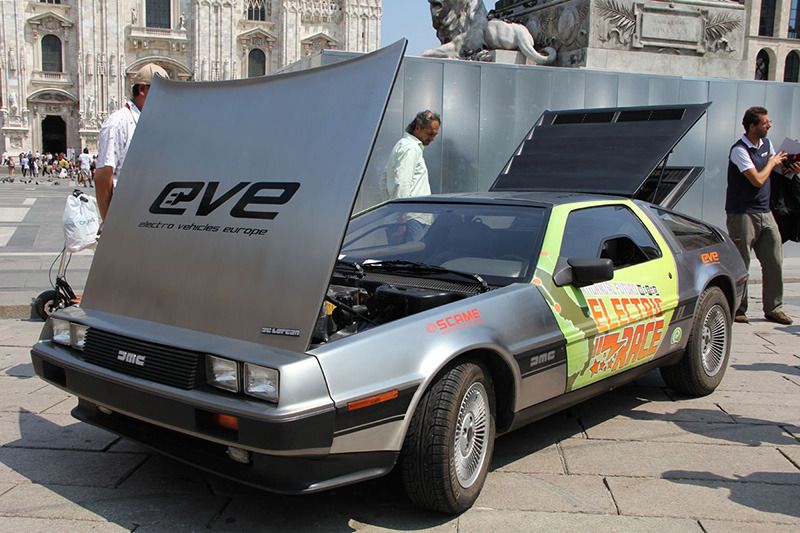 An electric Mini Cooper. A modified Fiat Ducato van and Renault iON concept car were also on display at the exhibition.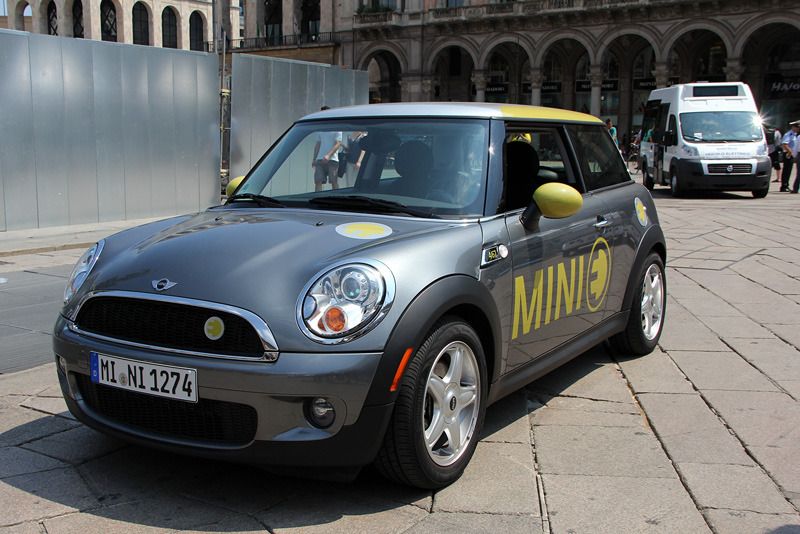 We walked to Missori metro station to spot Bombardier Flexity trams on Service 15 which proved challenging to photograph due to the "snake-like" length of the tram and curvature of the rails. The 7000-series Bombardier Flexity Outlook Eurotram was introduced in 2000 and is the first modern tram in Milan. These 7-section trams measure an impressive length of 33.1m.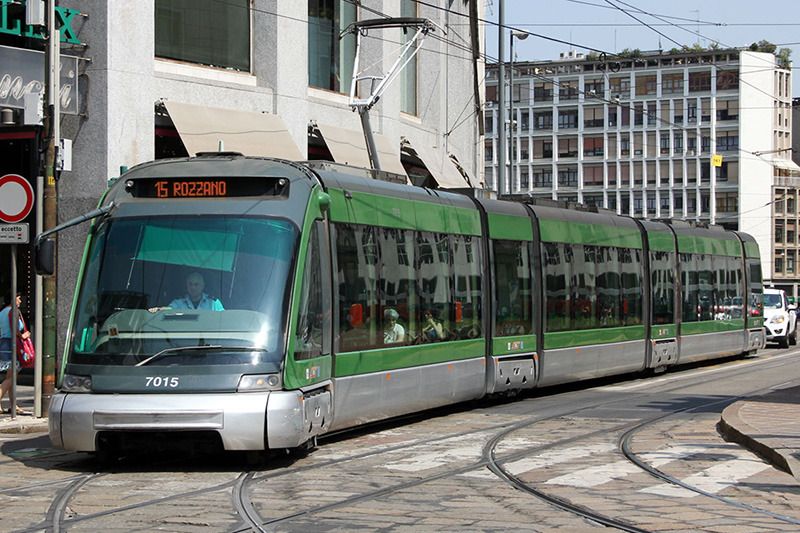 Similar to many Italian cities, Iveco / Irisbus CityClass buses have a dominant presence in ATM's bus fleet.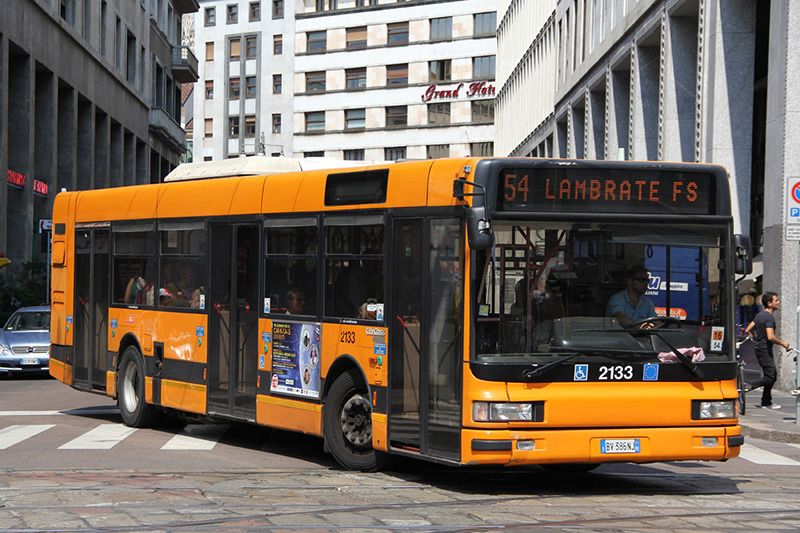 Sections of tracks along Service 24 route were being replaced during our visit and an Iveco CityClass articulated bus was spotted on the tram replacement bus service.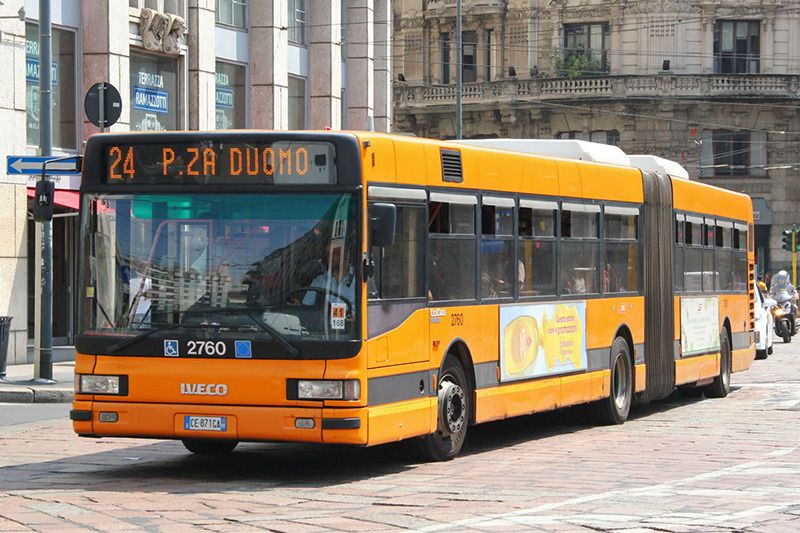 City Sightseeing Milano Volvo B7L open-top bus with Ayats Bravo Ubis bodywork.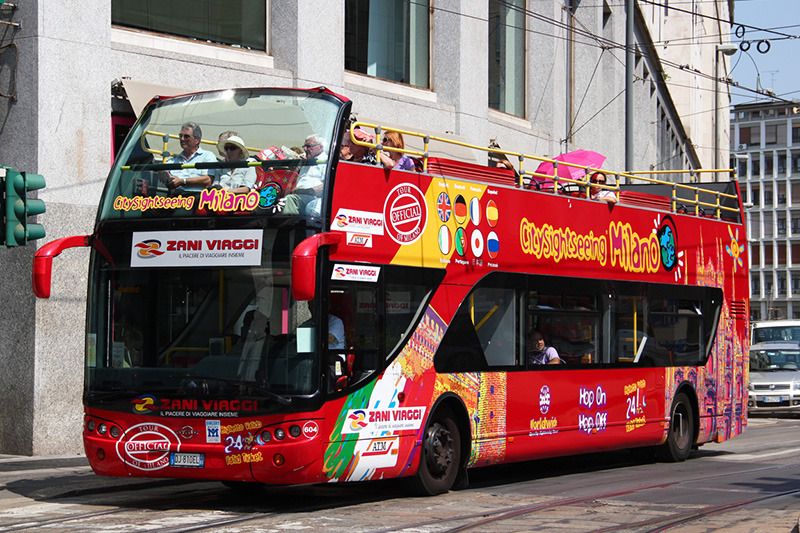 We decided to take a bus for the short hop to the terminal station of Service 23 at Piazza Fontana to get photos of the old Peter Witt trams. We alighted along the main road which is some distance from the terminal but found that the offside was in perfect sunlight at that bus stop.



Peter Witt tram #1883 carries an all-over advertisement for Bio Nature.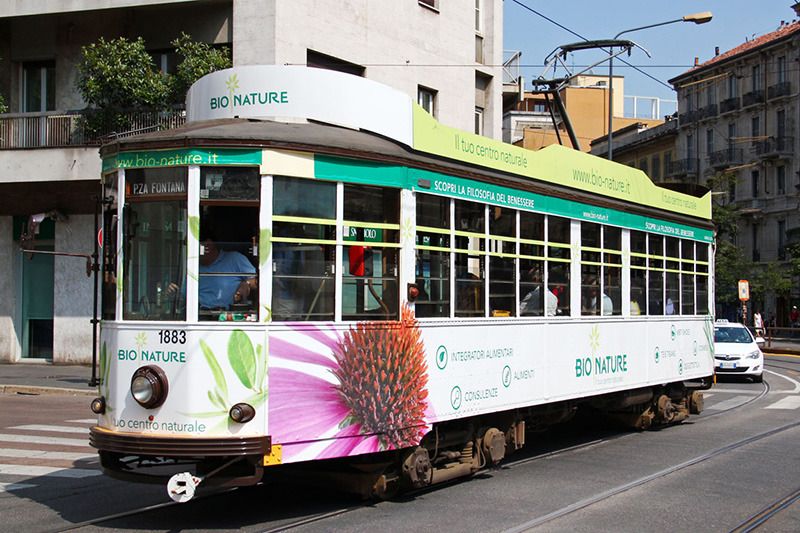 Peter Witt Tram

After getting an offside photo of a Peter Witt tram, we decided to take a joyride on the next Peter Witt tram that came along, to look for suitable photography locations for nearside view. The Peter Witt trams are a symbol of Milan and ATM is one of the largest operators of these antique trams in the world. 502 units were introduced between 1928 and 1930, and 250 were rebuilt between 1988 and 1992. Today, 90 units remain in scheduled service and are deployed on Services 1, 5, 19, 23 and 33. Another 60 units are stored, but are still technically active. Authentic Peter Witt trams can also be found in San Francisco, USA and in Dalian, China.





The period wood panelled interior and bench seats of the Peter Witt tram was a stark comparison to the modern and clinical interior of the newer trams.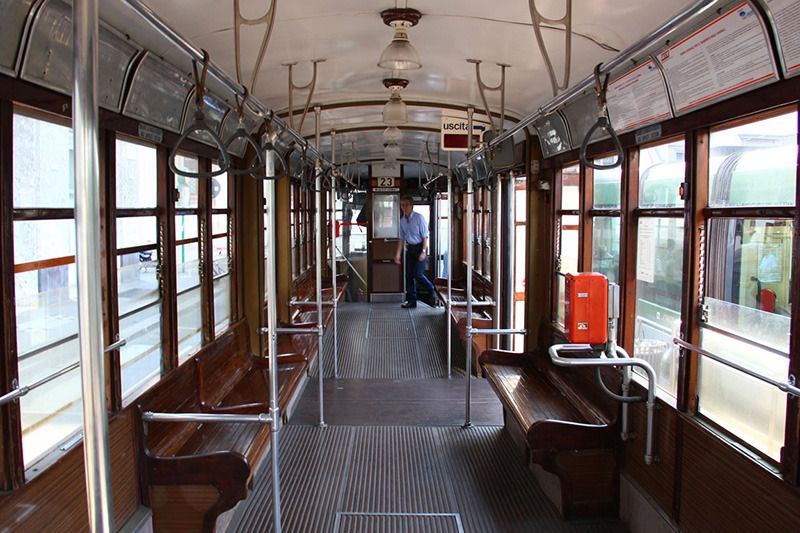 I always have a soft spot for twin bi-fold jacknife doors on public transport vehicles. These low profile doors minimise the intrusion of valuable saloon space while allowing for a wide entrance/exit to reduce the dwell time at each stop.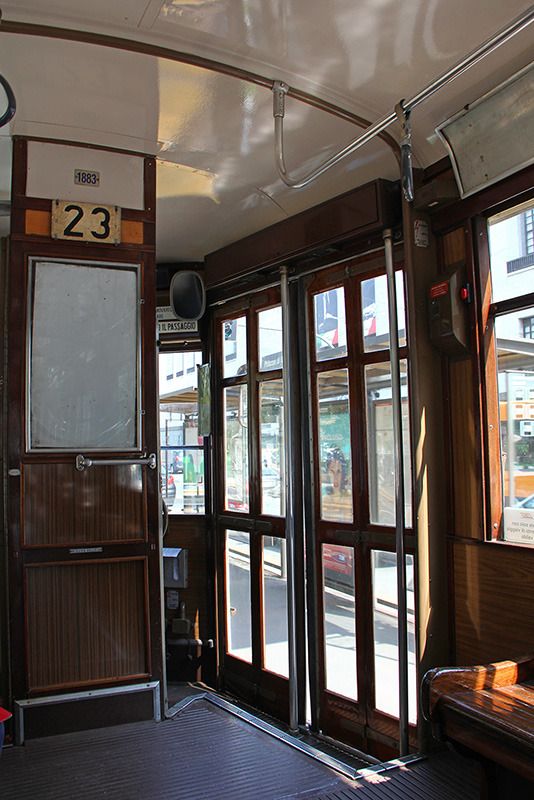 In addition, there was a weird warbling sound from the tram's electrical system, which might be due to intermittent contact between the poles and the overhead wires. Sunlight direction was favourable after making a left turn to Viale Permuda at Piazza Cinque Giornate, but the street was very shady in a city known for its tree planting efforts. We eventually alighted at Piazza Tricolore, where there was a sufficient clearance from the trees.

Peter Witt tram #1931 in orange livery photographed at Piazza Tricolore.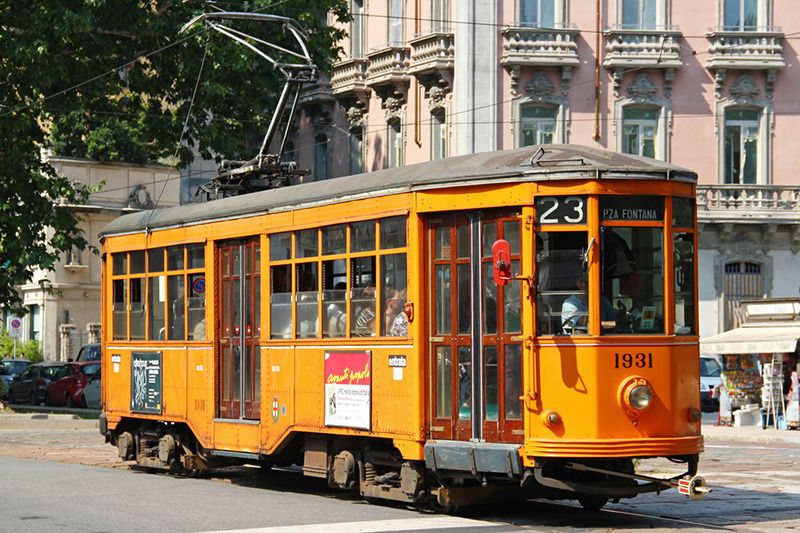 After a satisfactory photo of a Peter Witt tram, we retreated to the air-con comfort of a nearby supermarket to seek respite from the summer heat and stock up on drinking water to rehydrate ourselves. We camped for a few more photos but the traffic volume soon increased with the start of the evening peak and it was challenging to photograph good angles of the trams by standing on the divider. Thus, we proceeded back on another old Peter Witt tram to Piazza Cinque Giornate which might be still favourable for photos.




It was intriguing to admire the driver deftly handle the simple direct controller switch and pneumatic brakes (see this video).


The nearside view of #1883 at Piazza Cinque Giornate demonstrates the contrast between the modern all-over sticker advertisement and the wooden door frames of the vintage tram.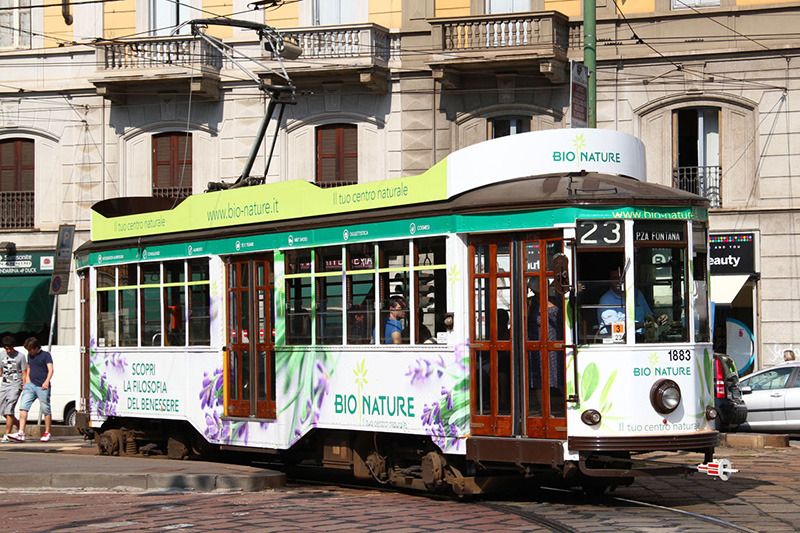 ATM #4356 is an Iveco Cityclass 491E.12.27 introduced in 2000 and was photographed at Piazza Cinque Giornate while working on Service 60.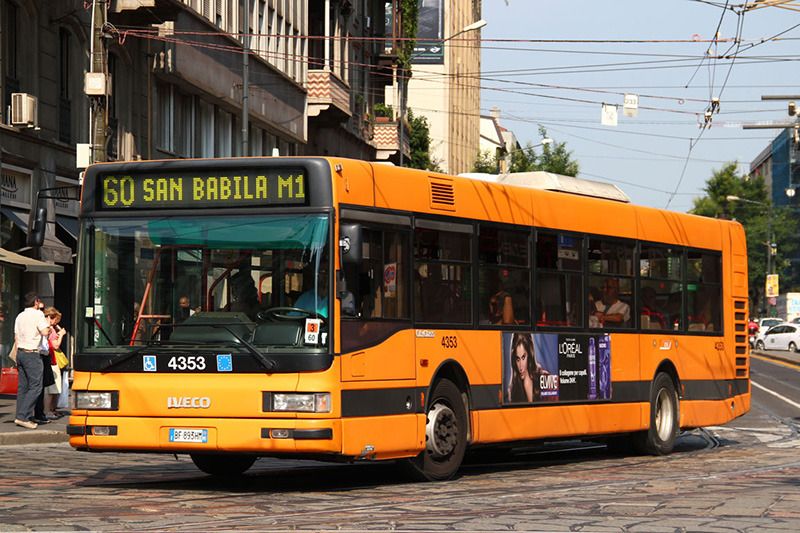 ATM Service 73 provides the connection between San Babila in the city centre and the domestic Linate Airport (LIN/LIML). In addition, Service X73 offers an express link to the airport with only one intermediate stop at Piazza Tricolore. Located just 7.8km southeast of the city centre, Milan Linate Airport provides a convenient gateway for domestic flights and short haul intra-Europe regional flights.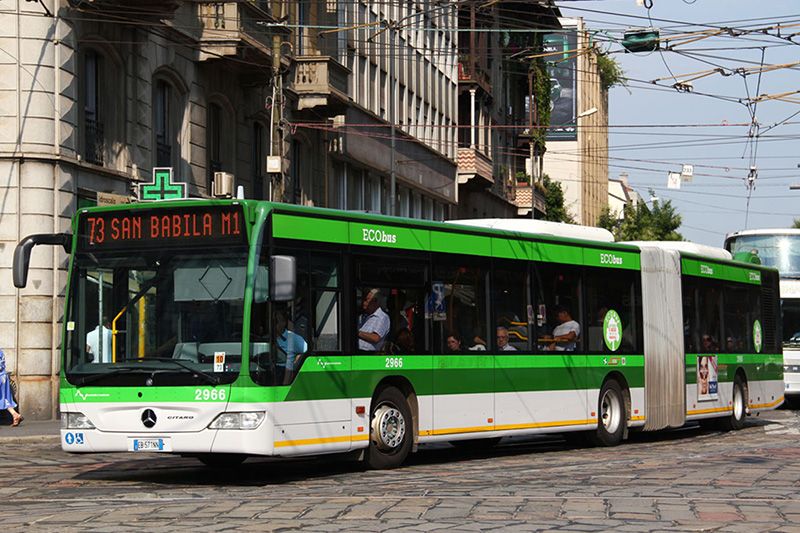 DH 204 MV is an Italian registered Setra S328DT double deck touring coach operated by Carminati.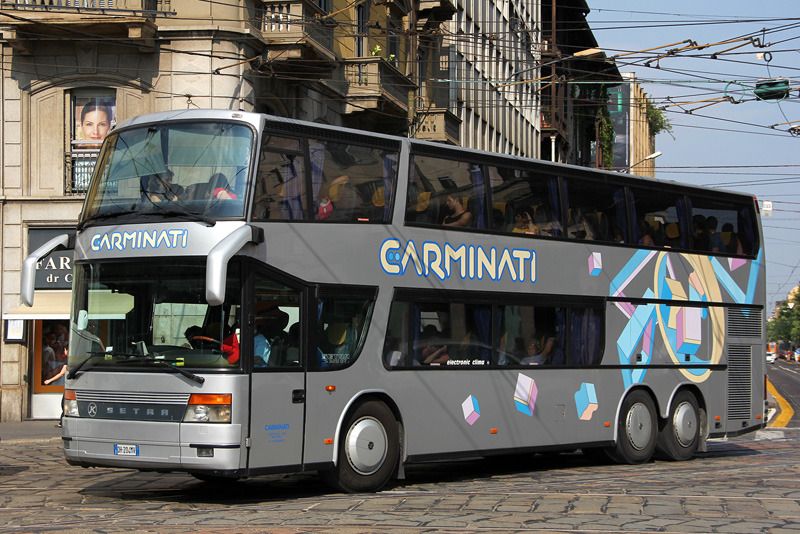 With the ever-lengthening evening shadows encroaching on our shots of the Service 23 trams, we decided to make a move and hopped onboard another Peter Witt tram to the terminal at Piazza Fontana. At the end of the short but enjoyable ride, we managed to obtain interior and dash shots of this iconic tram.




Basic mechanical controls of the Peter Witt tram. The tram driver manipulates the brass handle of the direct controller (far left) to regulate the electric power supplied to the electric motors while a separate brass handle (centre) controls the pneumatic power for braking.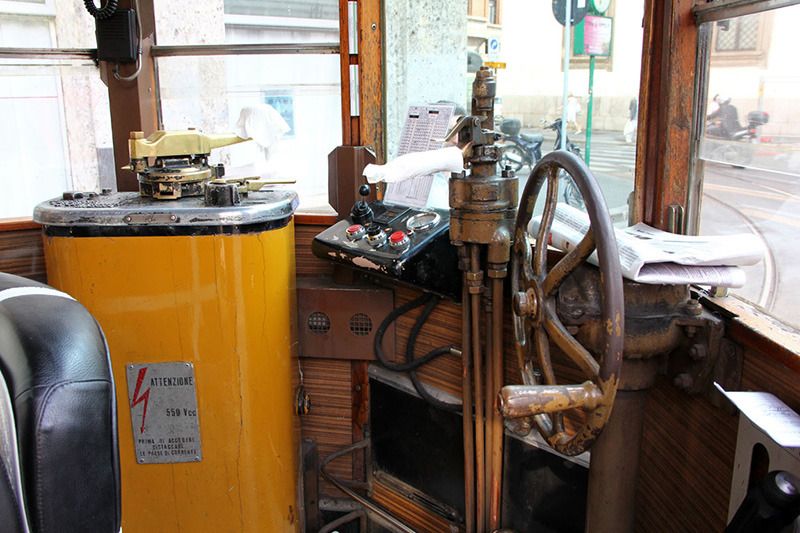 Yellow liveried Peter Witt #1821 entering Piazza Fontana terminal.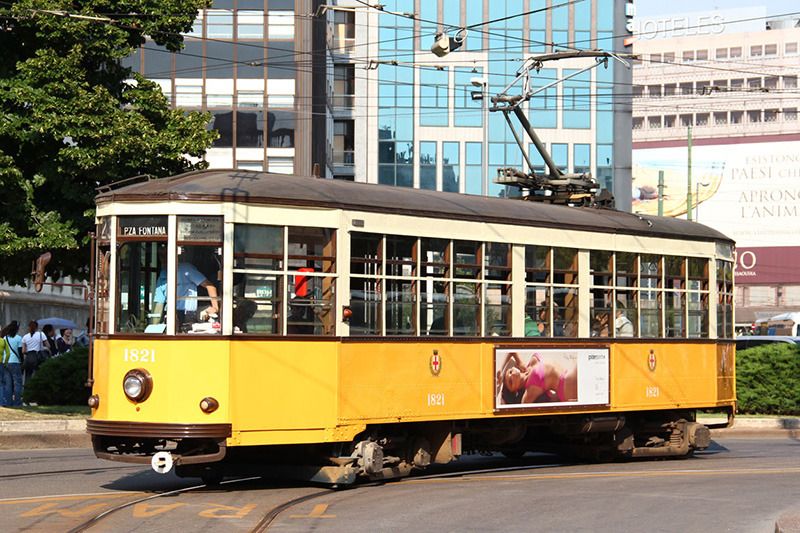 Cadorna

The next camping location we had in mind was Cadorna where a number of tram and bus services pass through. We walked out to the main road to take Service 27 and walked to Cadorna from Piazza Virgilio.




Interior of tram #4936. The "JumboTram" is licensed to carry 60 seated and 210 standing passengers.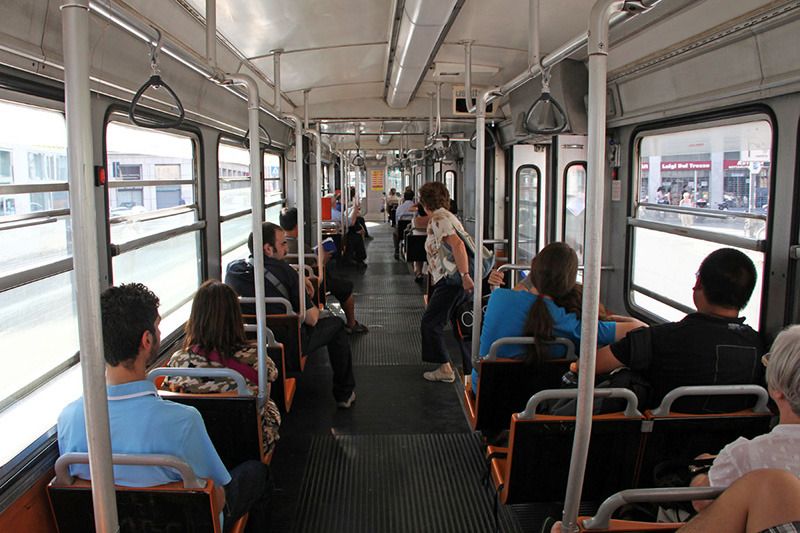 Cadorna is the second largest train station in Milan and a key node in the Lombardy regional train network operated by Trenord, which includes the airport express to Milan-Malpensa airport (MXP/LIMC).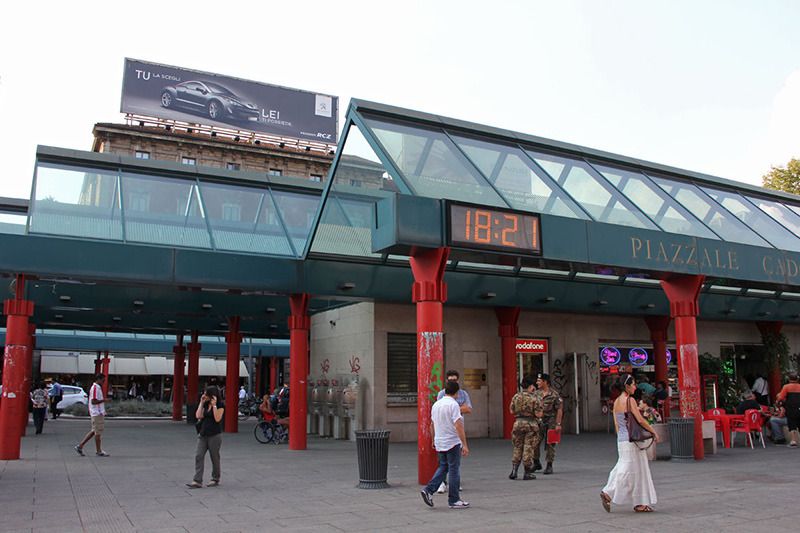 Interior of Cadorna station. Unfortunately, passengers are not able to access the platform area unless they possess a valid ticket which is different from the free access granted at most other railway stations in Europe.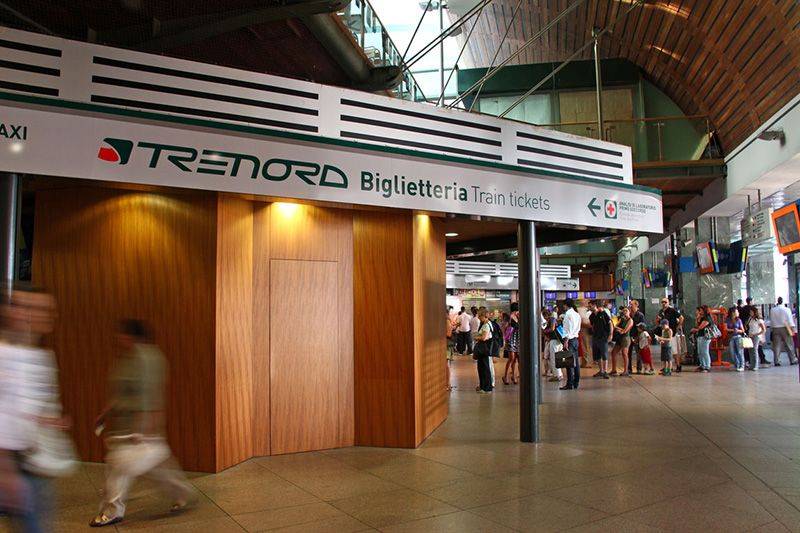 Our intended nearside photo location was unfortunately shrouded in shadow from nearby buildings due to the late hour. Thus,
we settled for offside photos at the east of the station. There were also a number of suburban buses in blue livery at that location, but the sunlight direction was not favourable.

Mercedes Benz Citaro G #2910 was photographed working service 94 which plies between Cardona and Bastioni di Porta Volta via three-quarters of the inner ring road.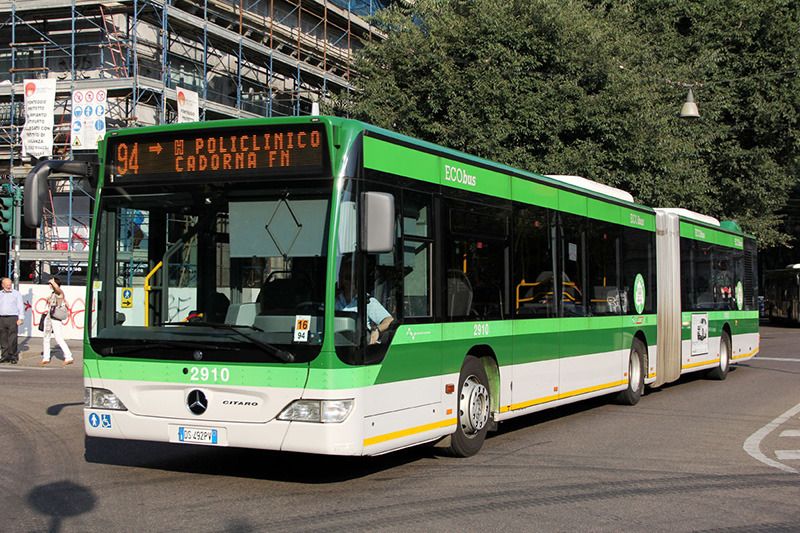 Irisbus Citelis 12m #6300 was introduced in 2010 and wears the green livery for what is dubbed as an "Ecobus" by the city authority.



In 2010, ATM brought in four hybrid buses for evaluation – two Mercedes Benz Citaro G's, one Van Hool A300 and a MAN Lion's City A37. The MAN Lion's City Hybrid bus was photographed making a left turn at Piazza Cadorna while working on the variant of Service 50 (Service 50/). Singaporeans would certainly find this bodywork familiar as a similar design is used by Gemilang to body SMRT's fleet of new MAN A22 diesel citybuses.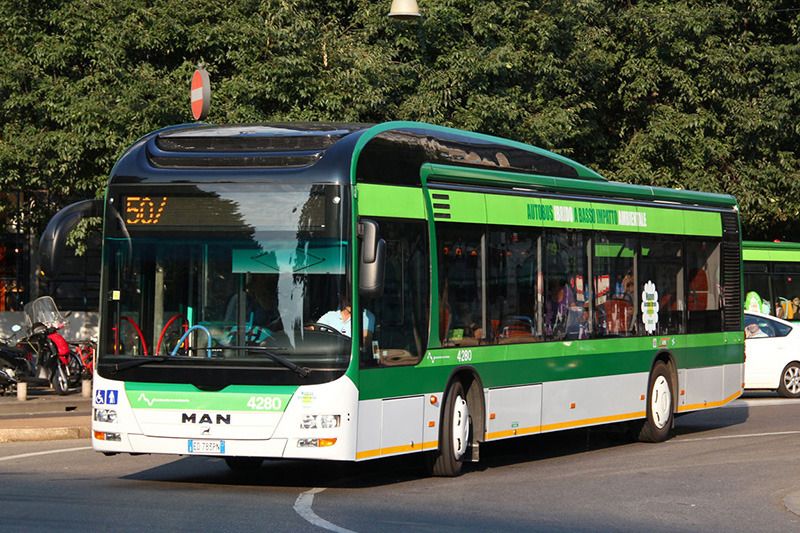 We decided to shift our attention to the Peter Witt trams on Service 1, where we were frustrated by the combination of poor frequency and the difficulty in achieving a good angle due to a decorative fountain in the middle of the piazza.

Decorative fountain in the middle of Piazza Cadorna.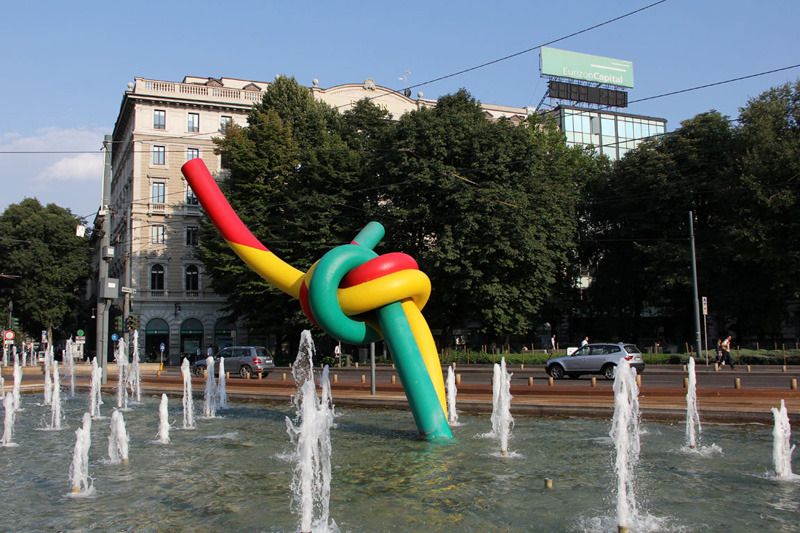 Peter Witt tram #1843 trundling past Piazza Cadorna on service 1 with a good load of passengers during evening peak hour.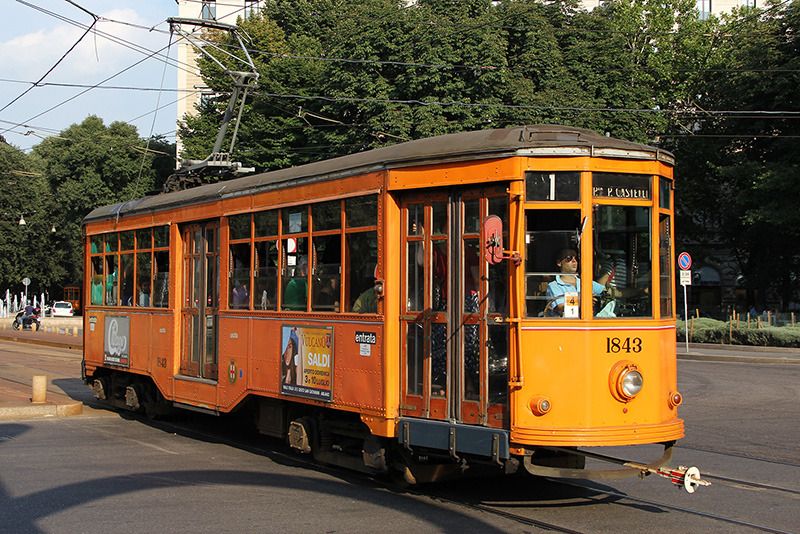 Given our less than stellar lunch experience earlier in the day involving Milan's ubiquitous bistro concept food establishments, we elected to have a leisurely dinner at the Burger King at the train station instead (Tendergrill Meal, Regular, €6.50).

Trolleybus Circular

After dinner, we took a short ride on a Service 58 Irisbus Citelis 12 to connect a joyride on trolleybus Service 90 back to our hotel. Sadly, the sub-optimal ride quality with the stiff suspension and excessive rattling was similar to that we had experienced on RATP's Citelis during the Paris segment of our trip.




Irisbus Citelis #6235 is in orange livery with additional green decals proclaiming its status as an "Ecobus".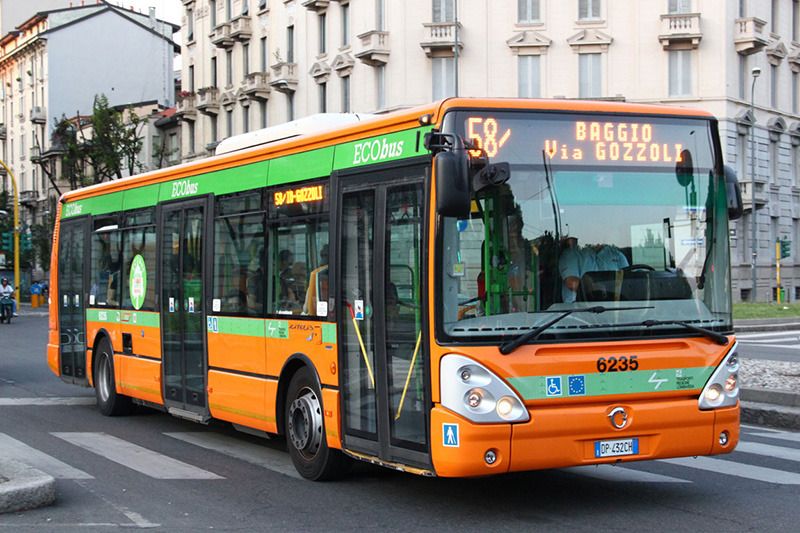 The Milan trolleybus system was inaugurated in 1933 and currently comprises of four routes. The circular Service 90 and 91 form the backbone of the network and plies in opposite direction (Service 90 – clockwise; Service 91 – anticlockwise) mainly along the outer (third) ring road. In the mid-1970s, the circular route was originally intended for conversion to tram operation, but the proposal was eventually abolished. Today, dedicated median lanes have been built along certain stretches of the route to improve journey quality by providing a partial busway operation. These median lanes are also open to taxis.

A Van Hool AG300T #729 turned up shortly but we did not board as we were more interested to experience a Breda or Socimi.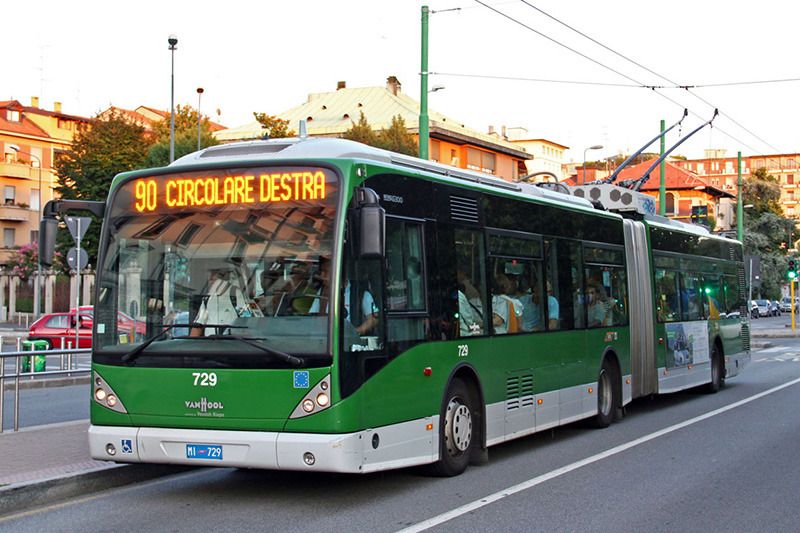 After the bus departed, the next bus arrival display at the bus stop showed a waiting time of approximately 17 minutes. While waiting, we attempted to take photos of the few buses in the area amidst rapidly deteriorating lighting conditions.

ATM operates a fleet of Irisbus Daily hybrid minibuses for its Radiobus service, which operates on request with advance booking.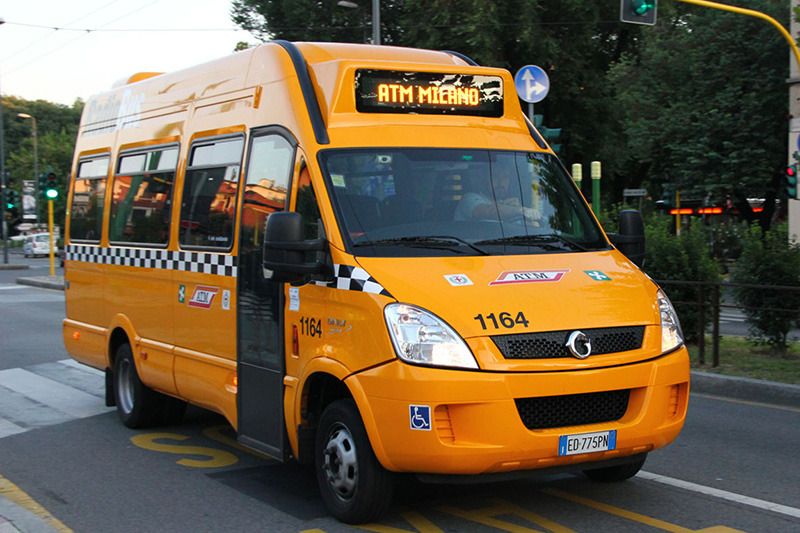 We also managed to photograph a broken down Socimi trolleybus that was being towed by a company Iveco recovery truck.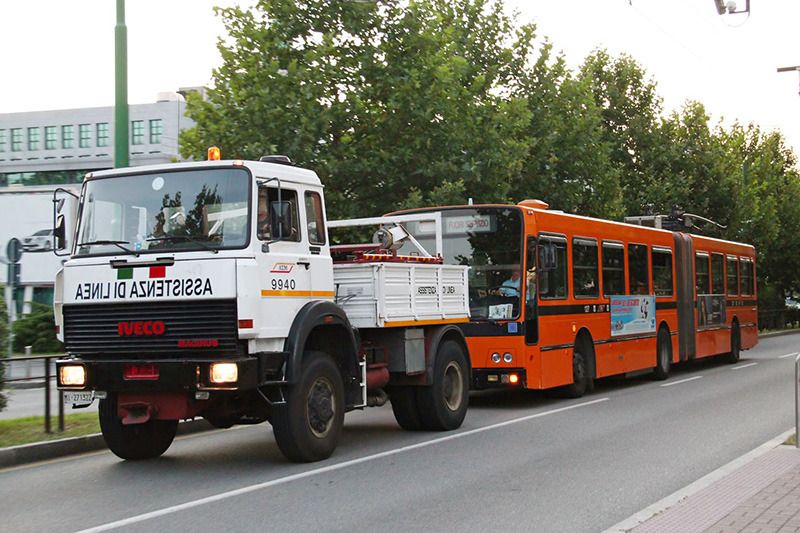 Unsurprisingly, the next bus was packed considering the long headway and much to our disappointment, was also serviced by a Van Hool. Nevertheless, we decided to squeeze onboard due to the uncertainty in waiting time for the next bus as the arrival display shows only the upcoming one trip.




The long waiting time which we experienced earlier was actually due to bunching and the next bus caught up at Jenner Resegonne. As the bus behind had noticeably lighter loads, we decided to alight and make a transfer. Unfortunately, one of us was unaware of what was happening and thought that we were already at our destination. Our frantic waving did not catch his attention and he was left at the bus stop when our bus departed.




A quick call to our clueless friend and we were reunited onboard the next trip of Service 90.




With even lighter loads on this bus, we managed to get a video of the ride.



Interior of a Van Hool AG300T trolleybus. One feature of Milan buses is the electronic display of the service number onboard the bus.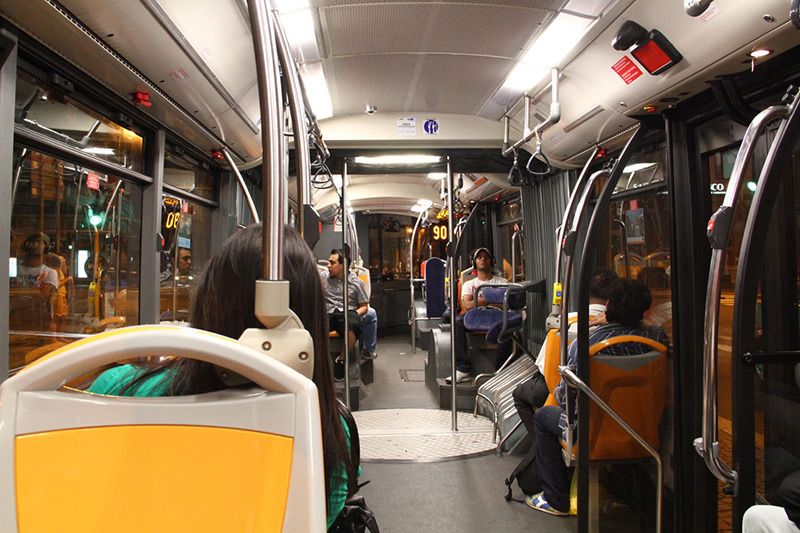 Soon, we realized that we were back at the stop closest to our hotel near Milano Centrale and we rushed to alight. The same person got abandoned yet again – this time on the bus. The rest of us nearly died of laughter upon realising it but he was clearly not amused. It was unfortunate that four consecutive trips of Service 90 were operated by Van Hools and we did not get to ride any of the older trolleybuses.

Next Post: Bernina Express - Day 21

Previous Post: The Venetian Lagoon - Day 19